09:23
Aston Villa v Watford: Angry Steven Gerrard promised changes to his side after their drab display at Newcastle last time out.
Villa have won just one of their last seven games in all competitions. Let's check back in on his mood.
"The most important thing for everyone to know is that we need to see a change in the level of performance," a steely-toned Gerrard says.
"I'm not going to sit here and talk about what my decisions are and how many changes in terms of personnel but our level has got to change. We want to finish the season strong.
"We're in an area of the league where we have a choice. We can allow [ourselves] to be sucked in or we can push on and a good strong positive performance certainly pushes us where we want to go to."
Updated

09:18
Your correspondence: Beth in Tottenham has some fresh advice for Jack Grealish and the Manchester City doctor. "Just a thought but do you reckon Jack Grealish might avoid so many shin injuries if he wore shin pads that actually covered his shins rather than those stumpy little things that barely cover his ankles?"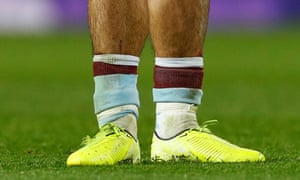 Updated

09:13
Match postponed: Exeter's League Two clash against Barrow has fallen foul of Storm Eunice. We'll bring you news of any more footballing disruption as we get it.
09:05
Power struggle at Old Trafford?
Manchester dis-United? Ralf Rangnick has addressed that talk of a power struggle between Harry Maguire and Cristiano Ronaldo over the captaincy.
"I must say that this is absolutely nonsense. I have never spoken with any player about a possible change of captaincy. Harry is fully aware of that and so is Cristiano. This has never been an issue. Harry is our captain and he will stay our captain."
Updated

09:00
Wolves v Leicester: Back to the football and ahead of this one on Sunday, Brendan Rodgers has been talking up his Leicester gig.
Rodgers has of course guided the club to successive fifth-placed Premier League finishes in the last two seasons, as well as winning the 2020-21 FA Cup, but his side – comprehensive winners in Europe last night – are 11th in the top flight and he's found himself the subject of a bit of chatter about his future.
You don't need to be a "rocket science" to know it's been a challenging season, he says, but he's been purring that he's still loving every second.
"I think it's one where you can only do your best. I think we've started out on a journey here of which we are nowhere near finished. We're nearly three years in working together and we've made some greats steps going forward.
"Progress isn't always linear, there's going to be fits and starts and you don't need to be a rocket scientist, I think it's logic, when you see where we are this year, if you look at the players we've been missing.
"It's a challenge in itself to be up there competing when you have all your players fit. But we'll keep fighting and for me, it's about returning to our level of football and I know in time we will get to that and we'll get players back and then that's all you can do.
"I've loved every second of being here. I understand the criticism, because when you don't get results, that will always come your way. So I will take that. But for me, I love working with the players, the club have been very supportive of me and I will continue to do that until I'm told otherwise."
Updated

08:52
Your correspondence: Dean Kinsella asked for more weather pics earlier. Plenty of dramatic, crashing-wave shots about but hang on, someone's gone running in this? Eunice has just put paid to another wheelie bin in these parts. I'm staying indoors.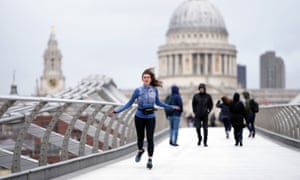 08:45
Edinson Cavani woe! The Manchester United striker missed the draw against the Southampton and the win over Brighton with a groin problem and he is still injured.
"As it seems, Edinson Cavani will still be out," Rangnick has told reporters.
"He's still having some problems with his groin and on the other hand also some stomach (issue). The same is true with Tom Heaton.
"Apart from that, everybody else seems to be available."
08:42
How's Jack Grealish? He's missed Manchester City's last couple of games with a shin injury but could he return to face Tottenham?
Pep Guardiola doesn't think so but, hey, he's only the manager.
"I am not a doctor, I am sorry. The shin, the symptoms, seem much less than last season. I didn't talk with the doctor but we will see. I don't think he will be ready for tomorrow but hopefully for the next week."
08:36
More from Klopp: Here's some more from the Liverpool manager about the Diogo Jota prognosis… well, sort of.
"No, he will not be available but the extent is still not clear.
"We need further assessment. It's something with some ligaments in and around the ankle, but not the ligament, some others. And so, pretty much everything is possible in the moment: that it will go really quick and the other way around unfortunately as well. So we have to wait.
"Everybody saw the picture with him in the boot, it's a normal procedure; even when you just feel something they put you in that boot. For the weekend, for sure not."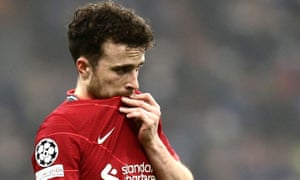 08:31
Big Storm outside, another brewing at Old Trafford? Not according to Harry Maguire in response to newspaper reports but Ralf Rangnick is facing the media very shortly ahead of that tasty Leeds game so we'll see what he makes of it all…
PS. Thanks, Barry. (Barry's off to pen a Friday Fiver special.)
Updated

08:29
That's all from me for today. I'm off to watch planes trying to land at Heathrow in 70mph winds on YouTube but will leave you in the very capable hands of Kate Burlaga. Thank you for your time, stay safe if you're in the path of Storm Eunice and have a great weekend.
08:19
Southampton v Everton: Following their win over Leeds United last weekend, Everton are bidding for back-to-back league wins for the first time since September and Frank Lampard says he has plenty to think about as far as team selection is concerned.
"There's an argument for going same again," he told reporters. "I felt similar going into Newcastle and it didn't quite work, so it's not a statement of fact.
"The players have to feel through the week that they can find a way into the team, if we have to change our approach to the opposition because Leeds to Southampton – two very good teams in lots of different ways. The good thing is we've got players who are playing well and who are hungry to get into the team."
Southampton are 10th in the table after taking four points off Tottenham and Manchester United in their previous two matches and are unbeaten in their last eight home league games. Lampard believes they are reaping the rewards for sticking with manager Ralph Hasenhuttl, who has presided over two 9-0 defeats since taking charge in late 2018.
"At those points, that's when you rely on the belief from the people above and around you and the structure in place," he said. "They clearly have that and I think they're a good symbol. It's testament to the club and testament to the manager.
"He keeps working in the same direction and then you see his ideas come out on the pitch and the players buying into them and they're a very, very strong unit."
07:51
The Big interview: Rotherham manager Paul Warne: "Conversation flows with Warne," writes Ben Fisher in a delightful interview with the manager of League One leaders Rotherham. "Whether he is discussing dressing up for the Super Bowl, being a big James Bond fan – "although the Timothy Dalton phase was a bit cheesy" – his mother tuning into every Rotherham game on iFollow, comparing the nauseating feeling of wanting his players to succeed to watching your child play the lead role in the school pantomime, or taking his labrador, Chief, for a walk to decompress after a game." In the very unlikely event that snippet hasn't piqued your interest, read on …
07:46
Liverpool v Norwich City: It's not a huge surprise but Jurgen Klopp has confirmed that Diogo Jota will miss Liverpool match against Norwich City at Anfield tomorrow after he suffered ankle ligament damage during his side's midweek Champions League win over Inter. The Portuguese forward now faces a race against time to be fit for the Carabao Cup final next weekend.
07:30
Your comments are welcome: Due to a technical glitch (specifically a colleague who is currently packing up the contents of their Guardian Towers desk and locker forgetting to toggle a button when they were setting up this rolling report) the Below The Line comments section has been unavailable for the past few hours.
The situation has now been rectified and we apologise for any inconvenience caused. Feel free to opine or vent politely on the football, the weather or anything else that takes your fancy from this point on.
Updated

07:20
Damien Duff: For anyone who might not be aware of his current activities, the former Chelsea and Republic of Ireland winger kicks off his reign as manager of the famous old League of Ireland side Shelbourne tonight. Shels host St Patrick's Athletic at Tolka Park tonight to get the league's first round of fixtures tonight, in a game that has sold out and is being broadcast live on RTE.
"I'm really nervous and I guess just interested to see how we go because you never know until the season starts," he told the Irish national broadcaster.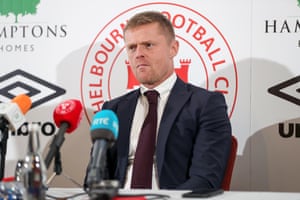 07:14
Brighton v Burnley: Brighton boss Graham Potter has been talking up Burnley's chances of avoiding relegation ahead of his side's appointment with the Clarets at the Amex Stadium tomorrow.
Burnley are bottom of the Premier League, seven points from safety and have not won a game since October. They do, however, have a game in hand against their rivals. After seeing Burnley hold Manchester United to a draw before being edged out 1-0 at home by Liverpool last weekend, Potter is not about to take their challenge lightly.
"This league is so competitive, you only need a few things to go wrong and you can find yourself in trouble," he said. "But Sean Dyche is a vastly experienced manager who organises the team really well. They have a fantastic attitude all the time, are a together team and everyone knows what they are doing.
"The reality in the Premier League is that there are a lot of other good teams and it is hard to get points. If you draw a few games, miss the wins, maybe pick up a few injuries to key players or you fall behind in the fixture schedule, then you are playing catch-up a bit and it can be tough.
"But Burnley have got the experience, they have got the know-how. I don't think they will be writing themselves off – and I am certainly not writing them off at all. I think they will get points between now and the end of the season – we just have to make sure it is not against us."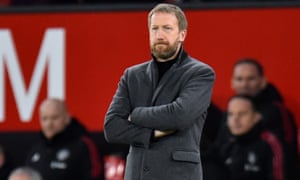 06:50
Leeds United v Manchester United: Ahead of one of the weekend's stand-out and more exciting, unpredictable fixtures, Marcelo Bielsa has refused to discuss his future at Elland Road. Rather bafflingly, some sections of the Leeds United support feel it might be time for a change of manager, despite the success and entertaining football the Argentinian has provided in his three-and-a-half years at the club.
Bielsa, who has been repeatedly hamstrung by a series of injuries to key players this season, tends not to sign deals of more than a season in duration at the end of each campaign and one suspects Leeds need him more than he needs them even if there are plenty of supporters (and neutrals) who would be devastated if he left.
Leeds are believed to be working on a succession plan in case Bielsa decides to take his business elsewhere and the American former RB Leipzig boss Jesse Marsch has been linked with the club.
"It's not a subject that we should talk about at this moment," said Bielsa, who went on to talk about what avoiding relegation would mean for the club this season. "It's an obligation and the injuries don't justify the season that we're having."
Bielsea said Stuart Dallas, who has been sidelined with injury, could be fit to play some part against Manchester Un ited but added that Liam Cooper and Kalvin Phillips will not be avaialable until March. "Dallas is recovering," he said. "He hasn't been discarded from Sunday's game. Kalvin and Cooper are continuing their normal processes. The objective is that they get to March and are available. The medical calculation was 12 weeks and that hasn't changed."
Patrick Bamford and Leo Hjelde remain out indefinitely with respective foot and knee injuries.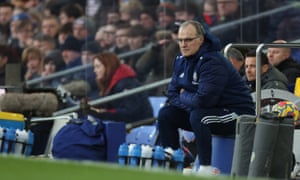 06:19
More correspondence: My thanks to Jon who has written in to point out that I somehow managed to omit Aston Villa's game against Watford from my original list of top flight weekend fixtures … a state of affairs that has now been rectified. It's just another example of the outrageously blatant anti-Watford and Villa bias for which the mainstream media has long been renowned.
06:09
Some correspondence: "Please can we have more pics of weather Barry?" asks Dean Kinsella. "I tried to snap a shot of the wind here in the west of Ireland yesterday but it didn't come out very well. We've been having so much weather lately. Oh, and I support Charlton Athletic."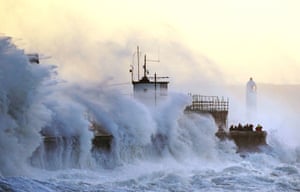 06:02
Liverpool v Norwich City: Four points from safety having played one game more than Newcastle in 17th place, Norwich City face a difficult trip to Anfield tomorrow to take on Liverpool. Their manager Dean Smith is not under-estimating the task that lies ahead of his players.
"Our mindset is going to be a really important part of it. We have to try to out-think Liverpool where we can. I saw them during the week and it is amazing what Jurgen has done at Liverpool in the time he has been there, it is something like 50 Champions League wins alone now.
"So, yes we are coming up against a grandmaster and I am really looking forward to it. We have had some good battles against him before, but obviously I was at a different club at the time, so it would be my first with Norwich.
"We will have two in the space of two weeks [including an FA Cup tie], so we have to come up with some tricks where we can. We certainly have to limit our mistakes, that is the biggest thing."
Norwich will be without Republic of Ireland striker Adam Idah, who is expected to miss the rest of the season following knee surgery. Idah, 21, picked up knee and ankle problems during the draw against Crystal Palace. Following initial tests, it was determined an operation was needed.
05:49
West Ham v Newcastle: Newcastle fans making the long journey from Tyneside to that there Big London via rail for their lunchtime kick-off against West Ham tomorrow are advised to check their train timetables. Lots of trains appear to be being cancelled, presumably for weather-related reasons.
Tottenham Hotspur's plans to get to Manchester today for their game against Manchester City tomorrow evening also appear to be have been disrupted although there is no suggestion the game will be postponed.
One suspects these won't be the only teams whose players and supporters will be inconvenienced by Storm Eunice and we'll bring you more news of any disruptions as we get it.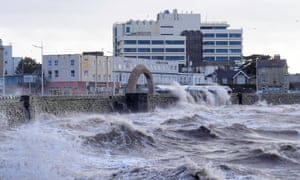 Updated

05:32
Newcastle United: Marquee January signing Kieran Trippier has undergone surgery to repair his fractured metatarsal and is now facing a battle to be fit before the end of the season.
The 31-year-old England defender, brought in from Atletico Madrid for £12m, broke a bone in his left foot after scoring the only goal in last weekend's Premier League win over Aston Villa, Newcastle's third in succession since his arrival.
"He had his operation yesterday and that went well, so that was good news," said Eddie Howe. "I don't know at this moment in time how long he's going to be out. We hope to have him back before the end of the season, but it's obviously a significant injury, which is a big blow to us because he was performing so well.
Pressed on whether or not Trippier might return before the end of the current campaign, Howe was non-committal. "In terms of a definitive time, no," he said. "We're going to have to see how his early rehab goes. As I said, the operation was a success, but it's an opportunity now for someone else to step up in his place.
"But sadly, we're going to miss his leadership skills on the pitch and everything that he was delivering for us. He's scored two goals in the last two games which have been defining moments for us, but we're confident we have enough quality in the squad to cover."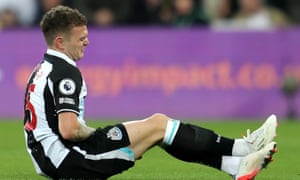 05:18
Women's football: England, Spain, Canada and Germany are the participants in the inaugural Arnold Clark Cup round-robin and the first two matches were played at Middlesbrough's Riverside Stadium last night.
Germany and Spain drew 1-1 in the curtain-raiser, before England were pegged back by Canada in the second game, which finished with the same scoreline. Millie Bright opened the scoring for England with a sensational hook over her own shoulder to give them a half-time lead, but Canada equalised through Janine Beckie.
England's next game is against Spain at Carrow Road in Norwich on Sunday and kicks off at 3.15pm. In the meantime, here is Louise Taylor's report from the Riverside last night …
05:04
Manchester United: The Mirror has reported on a power struggle in the Manchester United dressing-room, where they say Harry Maguire is feeling increasingly undermined by Cristiano Ronaldo.
"Maguire is said to feel marginalised in terms of his authority within the United dressing-room, leading to him thinking some of the players are losing respect for him," they say.
"There is now a growing belief within the Old Trafford dressing-room that it is inevitable Ronaldo will replace Maguire – who has been struggling for form – as captain."
Responding to the Mirror's claims on social media, the out-of-form Maguire pooh-poohed the exclusive. "I've seen a lot of reports about this club that aren't true and this is another," he said responding to the Tweet. "Not going to start posting about everything that is written but I needed to make this one clear. We're united and focused on Sunday. Enjoy your day everyone."
Updated

05:00
The weekend starts here …
With another busy weekend of football very much ahoy, assorted top flight managers get to participate in arguably their favourite part of the job today by facing barrages of interrogatory projectiles from the ladies and gentlemen of the press.
It promises to be a busy Friday so we'll bring you news of their musings and cover all the other major talking points on a day in which Leeds United manager Marcelo Bielsa has already said "now is not the time to talk about his future" and Manchester United skipper Harry Maguire has felt compelled to deny media reports that he has fallen out with Cristiano Ronaldo".
Hmmm.


This news is republished from another source. You can check the original article here