Richarlison skipped onto the Goodison Park turf at the sound of the final whistle, his beaming smile of relief an antidote to the pain shooting through his right adductor. 
The Brazilian had been the chief driving force in dragging Everton to safety during those fraught final few weeks of the season, with the club staring down the barrel of a first relegation since 1951.
Once more the subject of special treatment from Crystal Palace, the forward had run himself into the ground and more than played his part in completing a comeback that immediately entered Goodison Park folklore.
May 19, 2022 – and a 3-2 victory from 2-0 down which secured Premier League survival – will forever be remembered in the club's history.
For Richarlison, as he re-emerged with his baby daughter cradled in his right arm to thank supporters half an hour after full-time, it also felt like the end of a chapter.
A man of few words, manager Frank Lampard urged him to give a speech to his team-mates as the celebrations continued within the sanctity of the home dressing room.
Allan lifted him up as he reluctantly came forward and, tossing aside the ice pack that had been nursing his swollen thigh, said: "It was a good win today. Come on!"
It captured Richarlison's character. Everton fans have delighted in his mischief.
A winner, often bruised but not defeated. Not long after, he would fulfil a promise to himself, hobbling back onto the pitch during the euphoric celebrations, his new-born in tow, but with his facial expression tinged with sadness.
This was a bittersweet moment for the man from the streets of Nova Venecia, an impoverished area in south-east Brazil.
This was a poignant moment with the Everton supporters who were still making their way out of the Gwladys Street End as they turned back and noticed their talisman walking towards them.
Richarlison wanted to show his appreciation in what immediately felt like a goodbye and a full stop on his Everton career. He would not appear at Arsenal a few days later due to injury. It was, in all likelihood, his final appearance in an Everton shirt and the player didn't want to miss the chance for one last dance with those who adored him.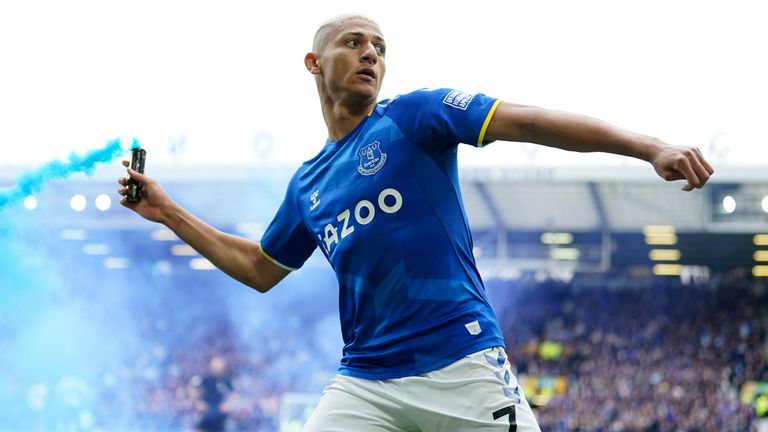 Six goals in his final nine appearances spoke volumes about his importance. He'd cost £40m, but his worth was double that to a club that had been sleepwalking into the Championship canyon.
Prized assets have departed Everton in acrimonious circumstances despite the club not feasting at English football's top table for over three decades. Richarlison has always been open and honest about his affection for the club and its supporters while acknowledging the ceiling of his potential hangs far higher than 16th position.
There is an acceptance that despite majority shareholder Farhad Moshiri's dream of transforming those fortunes since his arrival in 2016, players must know when the time is right to put their own ambitions first.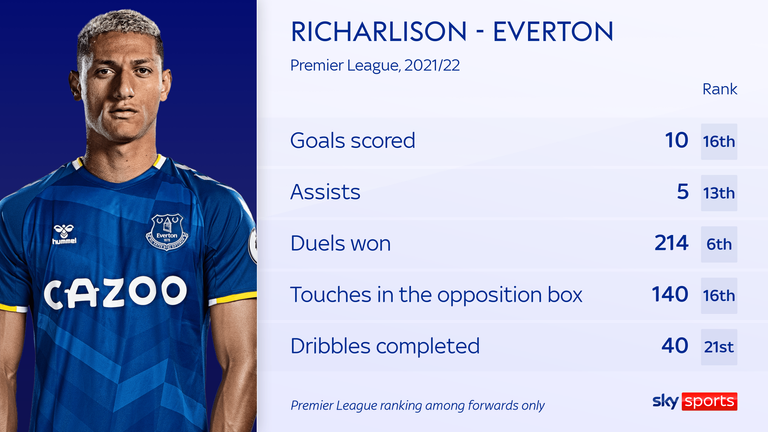 Everton chairman Bill Kenwright and his Tottenham counterpart Daniel Levy were seen having dinner together in Scott's restaurant in Mayfair on Monday night. One can't imagine the conversation was limited to the shellfish and champagne.
The hope was that Everton could build a team around Richarlison, but it is becoming increasingly apparent this summer that Lampard will have to use the profits from the player's sale to shape the necessary rebuild.
The Athletic have reported that Everton must balance their books by June 30 to come in line with Financial Fair Play regulations. That date – this Thursday – marks the end of the financial year for clubs, and the acutely-aware Levy will be looking to drive down the price as best he can.
Harry Winks and Steven Bergwijn have both been mentioned as potential players heading in the opposite direction, while Spurs are keen on a package deal that includes Anthony Gordon – something Everton have zero interest in entertaining.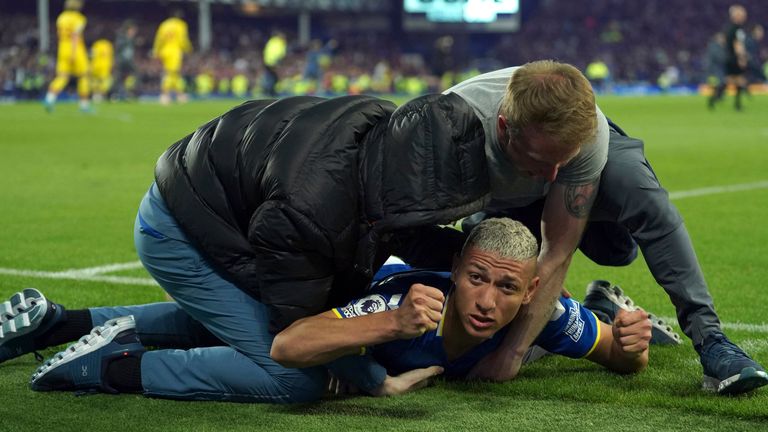 Owing to the mitigating circumstances allowed as a result of the Covid-19 pandemic, Everton's overall loss of £372m during the last three years has been seen as falling below the Premier League's £105m loss limit. The club won't be cowed into a fire sale, and nor do they need to be.
The financial outlook remains precarious, however, and so raising capital through player sales is the quickest way of assuaging those fears. Everton are holding out for well in excess of the £50m Spurs value Richarlison at. There is a deal to be struck and we are approaching a crucial few days.
Speaking in late May while on international duty, Richarlison told reporters: "I've already made it clear to the board. I've already talked to (manager Frank) Lampard too, with my agents and they know what I want. Let's wait for June.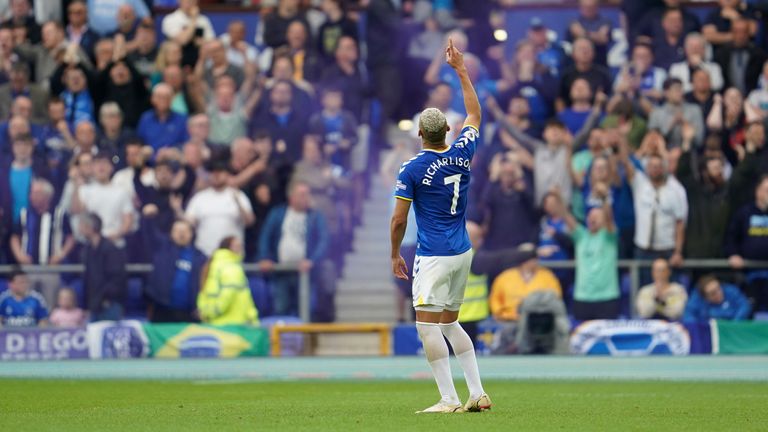 When we talk about leaving a club I'm kind of like this, because of the history I have at Everton, the affection that the fans have for me. When we talk about leaving I'm a little speechless.
"Now I can't talk, because when we talk about leaving a club I'm kind of like this, because of the history I have at Everton, the affection that the fans have for me. When we talk about leaving I'm a little speechless."
Last December, Everton announced a review of the football structure following the departure of director of football Marcel Brands. Poor recruitment has contributed to record losses, and Kevin Thelwell has since been appointed his successor.
Trying to sell or move on those that haven't worked – and there have been quite a few – has been problematic and costly, and while much of the deadwood is about to leave owing to contracts expiring, enticing suitors for those on the fringes is proving difficult.
Clubs know Everton are in a position where they must sell, which is giving them leverage in negotiations. That in turn has restricted the club's spending power, and so the downward spiral continues.
Everton would be acknowledging, by giving Richarlison their blessing, that they may have to take a step backwards in order to move forward.
The club is in the construction phase of a new stadium at Bramley Moore Dock, due to open for the start of the 2024/25 season, but a bright future needs to be built on a solid financial platform.
They cannot lose sight of the long-term ambition – and reinvesting in what winger Andros Townsend described on talkSPORT this week as a "mentally broken" squad Lampard inherited is essential.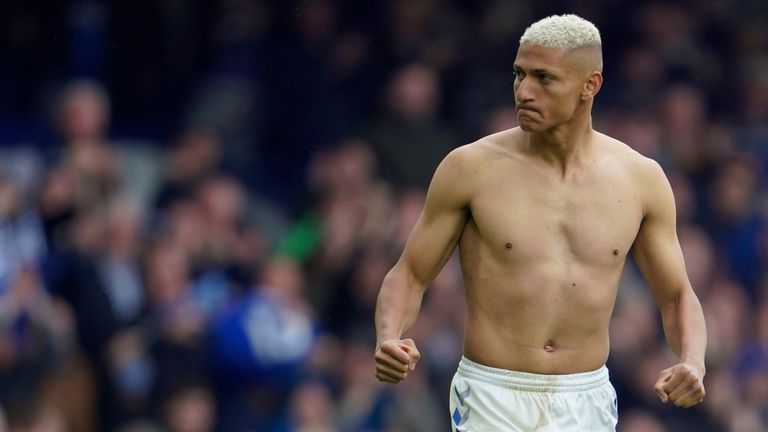 Everton can only spend what comes in and therefore must regroup to reach the targets Moshiri has set out.
The Iranian businessman retains that ambition – even in the wake of exploratory talks with a consortium, which includes former Chelsea and Manchester United chief executive Peter Kenyon, over a possible purchase of the club.
Tottenham are already built for the elite and Antonio Conte is looking to prise a player who has battled his way to the place where Everton ideally want to be. Conte can expect competition from Thomas Tuchel's Chelsea but the Italian is attracted by Richarlison's tenacity and aggression.
As a 10-year-old, he played barefoot in a local football academy as his trainers had fallen apart. He would make the 18km round-trip along the route in his socks just for the love of the game.
He was once rejected by Figueirense, a small club some 1,890km from Espirito Santo to Santa Catarina. After the trial, he waited 10 hours at a bus stop to be taken home, but his drive to become a professional footballer allowed him to escape childhood poverty and potentially a life of crime.
After getting his break at second-tier America Mineiro, a move to top-flight Fluminense soon followed, together with a call-up to the Brazil U20 squad.
It was in September 2016 when he scored in a 1-1 draw against England at St George's Park during his first trip away from Brazil.
He hit the ground running when Watford came calling in August 2017 but understandably faded in the second half of the campaign having played straight through following the start of the domestic season in Brazil.
Richarlison was seen crying in the dugout after being replaced without scoring during a 4-1 victory over Chelsea in February 2018.
"I give my life to football," he told Sky Sports in an interview four years ago. "I always want to play the 90 minutes. I was sad and I cried, but on the other hand I understood that the coach had to take me off because of the yellow card.
"It just showed how important the game is for me. I always want to do whatever it takes – whatever I possibly can – to help my team-mates on the pitch."
Then a 20-year-old, the player has learned to value team ethos, but it is his insatiable appetite to hit personal targets that has enticed Tottenham.
Richarlison was an unknown quantity when he arrived in English football but the player himself has never questioned his place among a star-studded cast.
It is what makes him a favourite for Brazil head coach Tite despite never playing in the Champions League or any European competition for that matter.
When he first arrived in England, he said "the only challenge is the weather", but come rain or shine Richarlison has risen to the occasion when it matters most.
During those early months, he would seek out his Brazilian team-mate Heurelho Gomes for advice and support at Watford, while Chelsea pair David Luiz and Willian were always on hand to lend comfort through dinner parties arranged with their families.
Marco Silva was a major driving force in convincing him to join Everton having enjoyed a profitable relationship with the player at Watford, but the man affectionately nicknamed O Pombo [Portuguese for 'the pigeon'] due to his goal celebration has spread his wings.
His move to Everton attracted scrutiny, but his tally of 43 goals and 12 assists in 135 league games [a goal involvement every 0.4 matches] for a club that has endured its fair share of instability since 2018 indicates he has more than repaid that outlay.
"Yes, an initial £40m for Richarlison raised a lot of eyebrows," former Arsenal striker Ian Wright told The Debate on Sky Sports not long into the 2018/19 season.
"Then he went and scored twice on his debut and looked amazing. But I watched him last season against Chelsea and he missed some glaring chances and in other games he missed open goals.
"And you think to yourself, 'if he took those chances people wouldn't even question the transfer fee.' But if he can kick on at Everton the way he initially did at Watford, he's going to be a massive asset for them."
Paul Merson was more sceptical of the transfer, believing the significant outlay had set the tone for a summer of widespread inactivity in the market.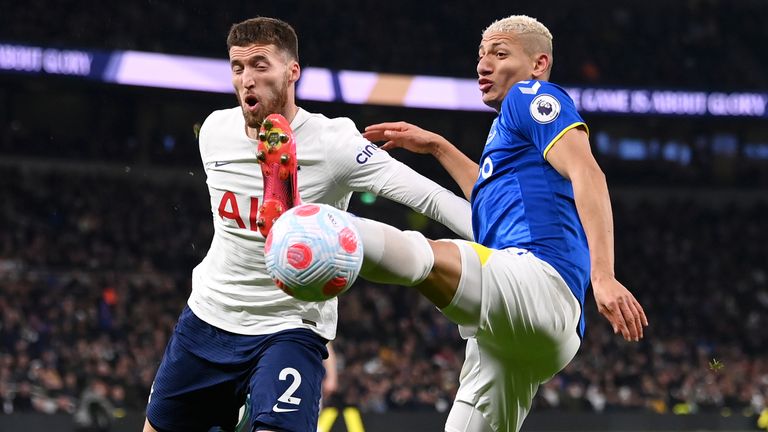 "I think the Richarlison signing has spoiled the window if I'm being perfectly honest," Merson said.
"I think that happened so early, and at £40m that set the benchmark. Teams then have gone, 'Well if you're getting £40m for him I want £60m, £70m, £80m, £90m and £100m. I think that's the problem."
Richarlison has not been shy to respond to his critics. Being on the edge and with a point to prove has often played in Everton's favour.
His opening goal in the 2-0 away win at Liverpool in February 2021 was perhaps his crowning moment in an Everton shirt, a crisp finish arrowed across Alisson to set the club on their way to a first win at Anfield since 1999.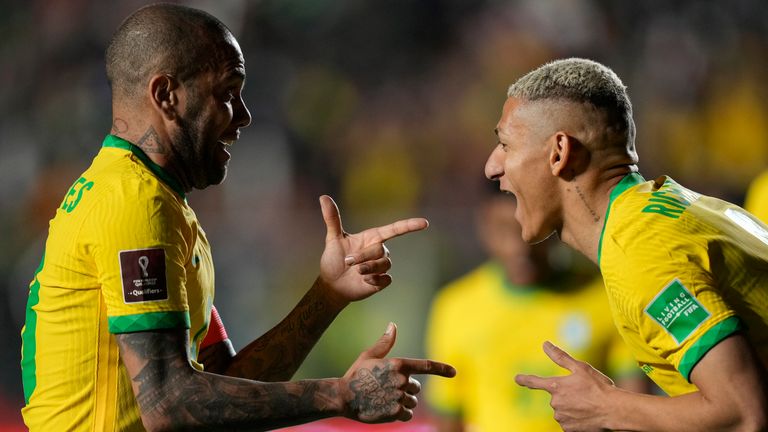 The occasional petulance that angers some onlookers comes with the package, but when Richarlison is in the mood there are very few Premier League defenders who can handle his darting runs and ability to play off either feet.
"A lot of my friends are in jail or dead," Richarlison said not long before he received his first senior international call-up.
"They got caught up in the world of drugs and guns. I was in the middle of it all. Where I lived was a drug-dealing spot. I never got involved in any of it."
Richarlison is now a role model to millions in Brazil as the country's No 9 and is set to fly the nest again. The ascent of O Pombo up the football ladder has no limits.


This news is republished from another source. You can check the original article here