Article content
This in from the Daily Faceoff's analytics writer Scott Maxwell, his take that when it comes to handing out bloated contracts and getting poor value under the NHL's salary cap, the Oilers rank as the second worst team in the league, behind only the lowly Chicago Blackhawks.
Article content
Maxwell has this to say about the salary cap: "For teams, it's about squeezing every penny and getting the best out of your roster year-by-year. The teams that use it the best are usually the ones that are consistent contenders, and the teams who have their rosters littered with albatross contracts usually find themselves at the bottom of the league."
Article content
As for the Oilers organization, Maxwell notes, "there are three inevitable things in life: death, taxes, and Ken Holland struggling in the salary cap era."
And the team itself? "They aren't quite an elite-tier team, especially with the players Holland invested money and term into."
Maxwell contends the Oilers have some good contracts with players like Connor McDavid, Kailer Yamamoto, Jesse Puljujarvi, Derek Ryan, and Brett Kulak, but they've spent a lot of money on buy-outs and have handed out too many no trade and no movement clauses, along with a number of overpays on term and salary to older players. "When you have players like Zach Hyman, Ryan Nugent-Hopkins, Evander Kane, Darnell Nurse, Cody Ceci, and Jack Campbell all signed for at least three years and, according to my contract rating system, to too much money does not help their case."
Article content
My take
1. Let's start with the good points Maxwell makes in his bold and ambitious project, namely the obvious fact that the Oil having too much dead cap space due to buy-outs or salary retained on players like James Neal, Andrej Sekera and Milan Lucic. Ain't that the painful truth?
2. Another significant and possible painful issue is that the Oil have much invested deep into the future on key players already in or heading into their 30s, such as Jack Campbell, Evander Kane, Darnell Nurse, Ryan Nugent-Hopkins and Zach Hyman. That means that as this team is constructed, it's most likely chance of winning the Stanley Cup is this coming year, as all these players are either still in or are close to their hockey prime. The older they get, the more likely it is their play will deteriorate due to injury and the aging process. Very few players are able to maintain their peak level of production into their mid-30s. Now, I'm not sure this is a mistake on Holland's part. In the name of winning now when Connor McDavid and Leon Draisaitl are at the peak of their prime years, Holland secured Campbell, Kane, Nurse, RNH and Hyman. Indeed, I'll suggest this was the correct move given how difficult it is to win a Cup. Nonetheless, the risk for the team that these players will fall off is real and grows each year.
Article content
3. When you dig into Maxwell's methodology, where he explains how he rates players and compares them to their current contracts, he notes, "This system can be picky, and it will lead to a few instances that differ from normal opinions, some that I don't always agree with either. Players like Sidney Crosby or Leon Draisaitl end up with 'bad contracts' because some of their stats are bad enough to drag them from elite to first line forward even though they make elite player money. But 99 times out of 100, it works." I don't see a list of Maxwell's top ranked 100 forwards, so I can't say if this claim is correct and that his system nails it or comes close 99 out of 100 players. But I have major doubts about this assertion. Maybe that would change if I actually saw the list, but I doubt it. 
Article content
4. If your system for rating players spits out that Leon Draisaitl and Sidney Crosby aren't elite NHL players, that isn't just a red flag, that's a nuclear bomb detonating on your system. If it gets it wrong on Draisaitl and Crosby, how can we trust it gets it right on anyone? Is it really accurate? Is it really fair to the players? As I said, I have major doubts.
5. I suspect from Maxwell's description of his work that he's basing his rankings heavily on shot shares,  on-ice numbers at even strength, the kind that will have you believing Jesse Puljujarvi was one of the NHL's better forwards last season, but that Draisaitl and Crosby weren't elite forwards. For example, when it comes to shots plus-minus at even strength, Puljujarvi ranked 31st overall in the NHL, while Draisaitl ranked 205th and Crosby ranked 100th (I should note that I also value Puljujarvi highly, but suspect he ranked somewhere around  120th to 150th overall for NHL forwards in terms of his play last season, with his performance dropping off significantly as the season went on).
Article content
6. Other players who I would recommend as elite NHL forwards without any hesitation don't come out so well if you go by shot shares, including Connor McDavid, the NHL's most dominant forward, who ranked just 29th overall last season based on his shot shares, Patrick Kane who ranked 190th, Nathan MacKinnon who ranked 101st, J.T. Miller who ranked 114th, and Nikita Kucherov who ranked 170th. Why do so many great players have mediocre shot shares? Because the shot share number isn't their number, it's a number earned by them and their numerous and ever-changing linemates on the ice, with each of the five players on the ice responsible for mistakes that cave in shot share numbers and solid offensive plays that raise them high. It's inaccurate on a conceptual level to say a player has his own shot share number. It's a number earned by his team when he's on the ice, and it depends more than anything else on the quality of his teammates. Of course, all kinds of systems try to separate out the precise individual impact a player has on that team-based shot shares numbers, but I've yet to see one system that has much success at it. It's a flawed way to rate and rank individual players.
Article content
7. The good news? It's not that hard to come up with a quick-and-dirty system that covers a good part of the value of NHL forwards. For starters, you can simply see which players rank highest in two key categories, time on ice per game and their overall points scoring rate. Coaches trust great players with a lot of ice time and great forwards regularly do the hardest thing in hockey, which is to manufacture goals. If you do this for the 2021-22 season, you'll find that the top ranked NHL attacker according to the number was Connor McDavid, with Leon Draisaitl in second place. And Sidney Crosby? He ranked 14th overall, which clearly puts him in the "elite" category. This back-of-the-envelope system fails to properly account for the defensive play of forwards, but I'll suggest it did a pretty good job of identifying the NHL's elite attackers going by numbers alone with the Top 10 being: McDavid, Draisaitl, Auston Matthews, MacKinnon, Mitch Marner, Miller, Kucherov, Rantanen, Barkov and Kane. The next 10 are: Kyle Connor, Alex Ovechkin, Jonathan Huberdeau, Crosby, Gabe Landeskog, Mark Scheifele, Jake Guentzel, Jack Hughes, Artemi Panarin and Kirill Kaprizov. Does this quickie system pass your own smell test? It's far from perfect but I'm comfortable with it as a general indicator of elite play.
Article content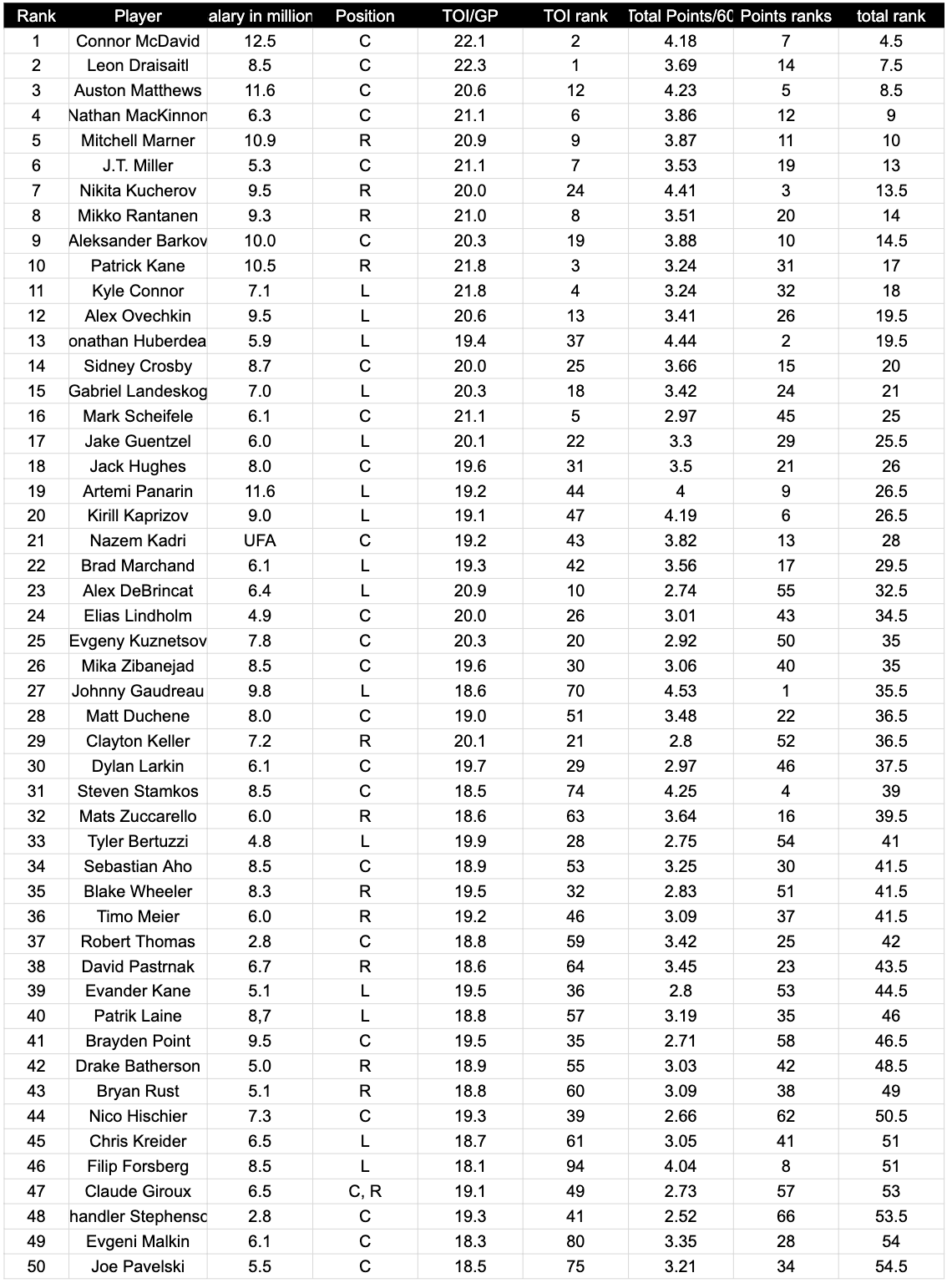 8. By the way, don't take my word for how Maxwell rates and ranks players. I may not have it quite right or certainly not the way he would phrase it. But he himself explains the stats he's using to rate and rank players, so if you want to dig into his process, you can.
9. Another example of a wonky Maxwell ranking here is Cody Ceci. He was a solid Top 4 d-man last year for the Oilers and by the playoffs had worked his way up into the top-pairing with Darnell Nurse. Ceci did well even in that role facing an endless procession of top attacking opponents. Yet Ceci only makes $3.25 million per year, near the league average salary. How can his contract be considered as anything but a steal? He's likely in the Top 60 d-men in the NHL now based on his individual 2021-22 stats, which would make him underpaid by as much as $2 or $3 million a year if he can maintain this level of play.
Article content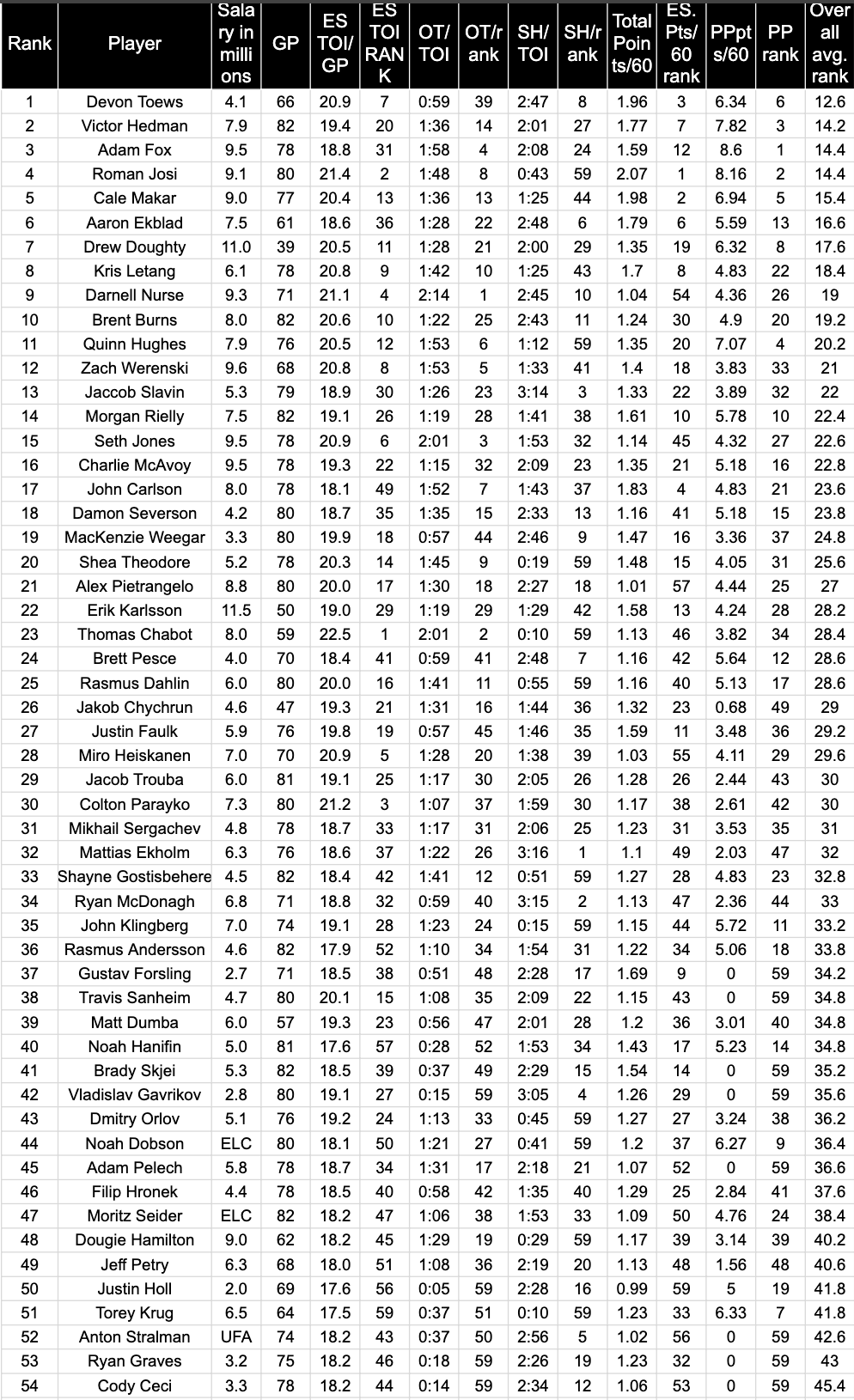 10. Far from being bad contracts, Draisaitl and Ceci have two of the most team-friendly deals in the NHL right now. It may well be that the Oilers will regret going long-term with RNH, Hyman, Kane, Nurse and Campbell, but last season at least Hyman and Kane were bargain players at their rate of pay. Nurse is a true No. 1 d-man in the NHL who has been underpaid for years. He will be paid his real value this year if he can maintain his high level of play. If he plays like he has the last few seasons, he won't be overpaid for all that he brings. The Tyson Barrie and Brett Kulak deals also look good for the Oilers for this coming year, as do the Yamamoto and Puljujarvi deals.
11. None of this is to say that the Oil have found more bargains than all other NHL teams, or that Holland and his predecessor Peter Chiarelli did a great job with cap management. They had some hits and some misses, in particular Chiarelli with the Milan Lucic contract, which really hammered the Oilers. But the Oilers made it to the Final Four in the 2022. A lot of that was Connor McDavid, most certainly, but some of that was also Ceci, Draisaitl, Nurse, Kane and Mike Smith, all on huge value contracts last year. A lot of that was also Hyman, RNH, Barrie, Kulak, Yamo and Puljujarvi, all on reasonable deals for what they brought to the team.
Article content
12. If the Oilers make the Final Four again this year, or go all the way to the Stanley Cup finals, will they still be considered to have overpaid players and mismanaged assets? Surely the results of the team as a whole are the single greatest indicator of how that team has done in managing cap space. Edmonton aced this aspect of the modern NHL last season. They are far from being the second worst team in the league when it comes to cap management. I haven't ranked all the teams as Maxwell has done — again, a massive and ambitious undertaking — so I can't say where Edmonton really ranks. But the team's playoff result speaks loudly and carries a big hockey stick.
Staples on politics
UCP candidates stage half ambush, half intervention on frontrunner Danielle Smith
Article content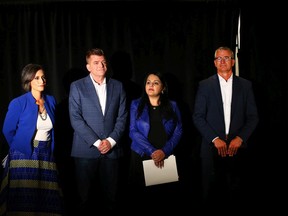 Cult of Hockey prospect series
Our panel of voters includes the Cult of Hockey's writing trio of David Staples, Bruce McCurdy and Kurt Leavins, along with our Edmonton Journal colleague and long-time Oilers scribe Jim Matheson.
This news is republished from another source. You can check the original article here