Awesome Bill from Dawsonville was how NASCAR veteran Bill Elliott was known in his heyday. He holds a rich set of skills and vast experience. Now he uses that experience and skill set in training his son, Chase Elliott. But there was a time when other NASCAR drivers wanted a piece of it too. 
ADVERTISEMENT
Article continues below this ad
Scott Bloomquist is a well-known name among dirt racing circles. The owner of Team Zero Race Cars once tried to race a Busch race-winning car, but things didn't go as planned. He narrated the whole incident in a revelatory interview with Dale Earnhardt Jr on the Dale Jr Download podcast.
ADVERTISEMENT
Article continues below this ad
Dale Jr asked him, "You were gonna buy one of his [Bill Elliott] cars?" With a chuckle, Bloomquist said, "I was just gonna try it. I realized that I'm not cut out for a day job." Dale further asked, "What was your plan?" My plan was that he'd wanna race in that car and it was complete. And it was sitting exactly the way it won a race.
"[Was it a Cup car?] No, it was a Busch car. Xfinity now, Busch then. And so I drove over to look at the car and while I'm there it's like okay and it was sitting exactly the way it finished in the race. Obviously, they got paid and they got the win, right?"
"So if I'm gonna buy this all I ask for is if someone from this place can walk it through tech and represent it as the exact same car that won the race. And I should be able, at least get to race it one time as it won. We can't do that."
[Why?] Because it was illegal," revealed Bloomquist to a visibly surprised Dale Jr.
Despite being involved in dirt racing for a long time, Scott Bloomquist is without an outing in the NASCAR. But the illegality of wanting to drive a NASCAR car is a little puzzling, and that's visible even in Dale Jr's reaction when he is told about it. What is really cooking?
Was it really illegal or did NASCAR have other reasons?
Bloomquist continued narrating the incident, with Dale Jr patiently listening. Even for someone like him, who spent 19 years in the Cup Series, the statements from Bloomquist were big surprises.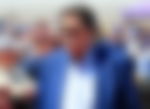 ADVERTISEMENT
Article continues below this ad
"And then started telling me all of the things I would need to be able to race it. And then I also got a call from Mike Helton [Vice-Chairman of NASCAR]… and he asked me to not come race. [Why?] Still too much controversy. And said that he'd welcome me with open arms if I waited a little while till all that went away," narrated Bloomquist.
"[That opportunity didn't ever come?] Because when I got them listening about I'm gonna need a body man, and I'm gonna need all these carburetors and that list just kept growing and growing and growing. So I said I can't race the car that you just won with and I said why is that. He said I'm just gonna be straight up here, because you're not Bill Elliott," he said.
"I said, well this ain't for me, and I never looked back. Soon as I knew that the playing field wasn't the same for me, I was done." 
ADVERTISEMENT
Article continues below this ad
Watch This Story: Denny Hamlin Has A One-Word Answer To 'Why Is Kyle Busch Hated' Question By Danica Patrick
 What Bloomquist has let out with this interview is going to make a lot of people question what's cooking inside NASCAR.
This news is republished from another source. You can check the original article here