Cricket NSW has become the first state organisation to publicly announce their support for the mankad.
In a statement released on Thursday, CNSW said the move was both legal and ethical, and match officials and volunteers "need to be supported in upholding the relevant laws of the game".
In an effort to make the rule more palatable to purists, the ICC last year moved the rules appendix that covered the Mankad from the area covering 'unfair play' to the area outlining the run out as a mode of dismissal.
CNSW chief executive and former New Zealand Test captain Lee Germon said any player who performed the act would have the full support of the organisation.
"For a bowler to run out a batter who is trying to gain an unfair advantage by leaving the crease before the ball has been delivered is both fair and legal," he said.
"There are no two ways about it, and we want our players, match officials and volunteers to know that they have our full support in upholding the laws of cricket, in this and every other instance.
(Adam Zampa attempted to Mankad Melbourne Renegades batter Tom Rogers during their BBL clash earlier in the week. It was given not-out as Zampa's bowling arm went beyond the vertical.)
"The pressure placed on match officials, most of whom are wonderful volunteers, to deal with something that evokes so much emotion is unnecessary. 
"The law is clear and we want the officials to feel supported in knowing that and not be pressured by an outdated school of thought."
Germon said he "couldn't agree more", and believed the term Mankading needed to be removed from cricket lexicon.
The term was named after Vinoo Mankad twice ran out Australian Bill Brown.
"Mankad has been vilified ever since, but for what? He carried out a legitimate act to dismiss a batter who was trying to gain an unfair advantage. 
"Even the great Sir Donald Bradman has said there was nothing wrong with what Vinoo Mankad did."
Germon also said whether or not the non-striker was in their crease was something the third umpire should be monitoring – at least at the elite level.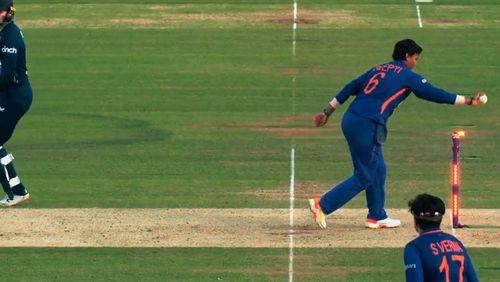 (Indian bowler Deepti Shama won India a one-dayer last year against England after batter Charlie Deans left her crease.)
This news is republished from another source. You can check the original article here