Todd Woodbridge is less worried about Nick Kyrgios' problematic ankle than he is his state of mind as his quest for a maiden grand slam singles title continues at this month's Australian Open.
Kyrgios has withdrawn from the United Cup and Adelaide International because of his ankle injury but his manager says he will be fit in time for the Open in Melbourne.
Reaching last year's Wimbledon final has increased the expectation on Kyrgios, who despite the ankle injury is rated fifth favourite with the bookmakers behind Novak Djokovic, Carlos Alcaraz, Daniil Medvedev and Rafael Nadal.
"I hope he is fresh and ready, because there's going to be a lot of attention on him once he gets to Melbourne in just over a week's time," Woodbridge told Nine's Today.
"This isn't exactly what I think he would have been after. When he got through (to the Wimbledon final), he had a couple of semi finals on the road to getting there, prior to that on the grass courts. This is a different approach.
"But you know Nick does it differently and I just hope that for the sake of him – he has a proper chance of going deep into the tournament if the ankle's good.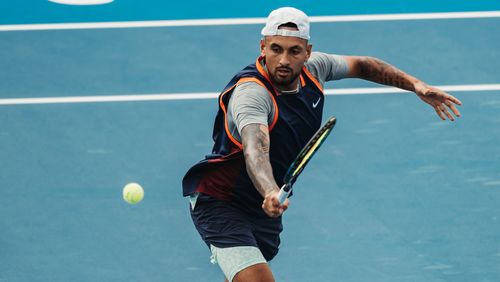 "More importantly, though, that the head is clear because once that is in good order, that's when he can play his best tennis.
"It's not so much about the physical with Nick. It's about the mental."
Woodbridge added that the fact that Kyrgios had pulled out of Adelaide as well as the United Cup should silence critics who had blasted the Australian for a lack of patriotism in teams events.
"Obviously that's not the case because he's gone to Adelaide, which is an individual tournament and had to do the same thing.
"The bigger issue is, is he going to be ready for the Australian Open? I think he will be, he's giving himself every chance. I know he's been on the practice court and I know he's been doing some of the work."
Woodbridge also said that Djokovic deserved his hot favouritism after missing last year's tournament.
"Novak's been slipping in, everything's gone as smooth as possible for him in coming into Australia, getting matches under his belt in Adelaide."
This news is republished from another source. You can check the original article here