When talking about stock car racing, the first thing that comes to mind is NASCAR and its popularity in the United States. However, a few decades ago, stock car racing saw a huge surge in popularity outside of the United States as well. So much so that other countries were willing to host their own stock car racing series.
One such series was the Anglo-American Stock Car Racing series, then known as ASCAR. The series was inaugurated in 2001, but it did not last long and became defunct after the 2007 season.
Apparently, the main aim of the series was to bring entertainment to the fans. Many of its critics find it hard to believe that the series lasted as long as it did. The then CEO Mike Schmidt was even reported as saying, "ASCAR is about delivering motorsport as entertainment. Teams should be prepared not to take themselves too seriously—that will endear them to the fans."
ADVERTISEMENT
Article continues below this ad
How did the NASCAR-themed series fare?
In the early 2000s, Michigan-based Chas Howe Racing Enterprises was working on the construction of the cars. Their job was to build steel-tube chassis-based American Speed Association (ASA) cars. The cars would mirror the Chevrolet Monte Carlo, Ford Taurus, and Pontiac Grand Prix. Of course, the inaugural 2001 season faced a few issues, but they were not considered a cause for alarm.
Unfortunately, things gradually got worse, as Rockingham Motor Speedway founder Peter Davies pulled his private funding. The series had promised to field at least 32 cars, but only 19 entries finally made it. From the drivers' perspective, there were repeated complaints about engine oil surges. This was primarily because the engines couldn't cope with running on the banking, and drivers could not go beyond 6800rpm.
DIVE DEEPER
More bad news followed, as a few engines failed and the field was whittled down to 12 cars for the rolling start. It even got to a point where the safety car had to be deployed to rest the engines. Following the exit of Davies, Schmidt was forced to leave, and the calendar was suspended for three months. Team owner Bob Berridge soon threw a lifeline when he took over as the head of Oval Racing Management.
How did the second attempt go?
The entry list was a lot stronger the second time around, and teams were confident that the series was stable. Admittedly, the field was still fairly small, with just 14 cars, but the good news was that they were reliable. The fledgling series was not out of the woods just yet, but Berridge helped rescue it.
In 2002, the series received a massive boost in the form of a TV deal with Channel 4, as well as the nod for organizing support categories. Additionally, a £100,000 prize money was announced for the first female race winner.
It is worth mentioning that the series boasted a number of elite drivers from different disciplines. Among them were the BTCC star Jason Plato, Darren Manning, Kelvin Burt, Darren Turner, and Toby Scheckter. With an increase in motor racing royalty, better spectator attendance was guaranteed. Sadly, there arose a new issue—a need to resurface the Rockingham Motor Speedway. Soon, the ASCAR series began putting out feelers outside English soil, entering Germany, Ireland, and France.
DIVE DEEPER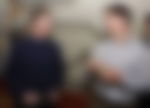 Other issues included the inability of cars to safely handle wet weather situations. Although Goodyear developed a wet-weather tire, it never progressed beyond the testing phase. In spite of this, the big stars kept coming in, including Matt Neal, Kevin McGarrity, and the late great Colin McRae. Still, the grid capacity never progressed beyond 20 cars, which was in 2002.
ADVERTISEMENT
Article continues below this ad
The decline and inevitable end of ASCAR
Then came new management new strategies were implemented, such as performances by chart-topping music acts before every race. Unfortunately, Berridge was not too impressed with the stunt. He once said, "We eventually got the product spot-on. The whole spectacle was terrific. We were onto a winner. Rockingham had a fantastic opportunity, which they wasted.
"They brought in Ashley Pover, who was a financial derivatives trader. As a motor racing promoter, he didn't have a clue. I could see that he had a totally different idea. He went off in completely the wrong direction, and it died more or less within two seasons. Wanted to dumb it down, and he did. He got what he deserved. We were right on the cusp, at the end of 2002, for four or five years of sustainable growth."
ADVERTISEMENT
Article continues below this ad
Watch This Story: Kyle Busch Proposition Leaves NASCAR Insider Baffled as Tony Stewart's 'Victory' Raises More Questions
At one point, NASCAR nearly sued for copyright breach, so the series was renamed to Days of Thunder Racing Series. This move worked for a while, but the interest soon declined and the series became defunct after 2007.
This news is republished from another source. You can check the original article here