It has been a few years since Mark Martin last stepped into a racing car. He burst onto the scene in 1981 when he made his Xfinity Series debut. Since then, he has gone on to rack up 40 Cup wins, 49 Xfinity wins and seven Truck Series wins. Of course, at 68 years old, his racing days are far behind him. In spite of all this, he is still relatively involved in the motorsport world, particularly in the Late Model Racing arena.
Recently, Martin spoke to Racing America's "The Bullring" and spoke about his racing career and pavement Late Model racing. Prior to his successful NASCAR career, the legendary driver made a name for himself in Late Models. In fact, he was a four-time American Speed Association (ASA) champion and snatched victory at several major Late Model races. The ex-NASCAR star opened up on his most memorable race, the 1977 National Short Track Championship at Rockford Speedway.
ADVERTISEMENT
Article continues below this ad
He told Racing America, "In 1977, I moved from Late Model dirt to Late Model asphalt. The opportunity to race with Dick Trickle and Joe Shear and Dave Watson and Tom Reffner and all these greats like this was just an honor for me. We went to the National Short Track Championship in Rockford and I was just 18 years old, 110 pounds, looking like a little kid."
DIVE DEEPER
What did Mark Martin say about that particular race?
ADVERTISEMENT
Article continues below this ad
According to him, he lined up second on the grid, behind Dick Trickle. When the race wrapped up, he managed to cross the finish line in first, winning the National Short Track Championship in the process. Martin confessed that when he triumphed, it came as a total surprise for him. This was because he never expected to be competitive at that level. On the other hand, he also reflected on bitter defeats, like finishing second to Dave Mader III in the 1978 Snowball Derby.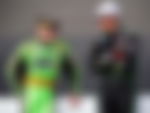 He continued, "I lost the Snowball Derby with five laps to go in 1978, my second time down there. I was leading and blistered the right-rear tire. It bothers me as much, that loss, as the 2007 Daytona 500. It just tears my guts up that I didn't win the Snowball Derby when I had it right there sitting in my lap."
ADVERTISEMENT
Article continues below this ad
WATCH THIS STORY: Brad Keselowski to Honor Mark Martin With a Tribute Livery at the Darlington Raceway
Now, he is still keeping a close eye on Late Model racing, though he has a particular fixation on pavement, Late Models. Mark Martin hopes that the sport grows with the increase in purses for major events and national Super Late Model tours. He admitted that it was a step in the right direction. Especially since Dirt Late Models have been increasingly popular compared to their pavement counterparts.
This news is republished from another source. You can check the original article here