It was arguably cricket's most famous afternoon tea.
The footage of Sachin Tendulkar and Shane Warne visiting Sir Donald Bradman's home went around the world.
Photographs of the men standing below Bradman's portrait were front page of newspapers in Australia and India.
And behind it all was a cricketer called Graeme Smith — no, not the South African captain, another one.
Smith was a leg spinner from Frankston, Victoria, who played grade cricket for Richmond in the late 1950s.
In 1963, he moved to Canberra for his wife Beverley's health and began playing in the ACT league.
The Cricketer Annual (1977) would later describe Smith as an all-time great.
"The history of Canberra cricket will remember Graeme Smith as one of its most colourful personalities, and its most outstanding bowlers," it read.
Smith's early years in Canberra were spectacular. In one first grade game he took seven for eight, including a triple hat-trick, or five wickets in five balls.
He was selected to play for the Prime Minister's XI against a visiting English team, a match that Sir Donald Bradman had come out of retirement to play in at Manuka Oval on February 6, 1963.
The scorecard shows 55-year-old Bradman made only three. Smith took three for 61, his figures slightly better than Richie Benaud, who claimed two for 62.
Smith's highlight, of course, was being on the same field as Bradman.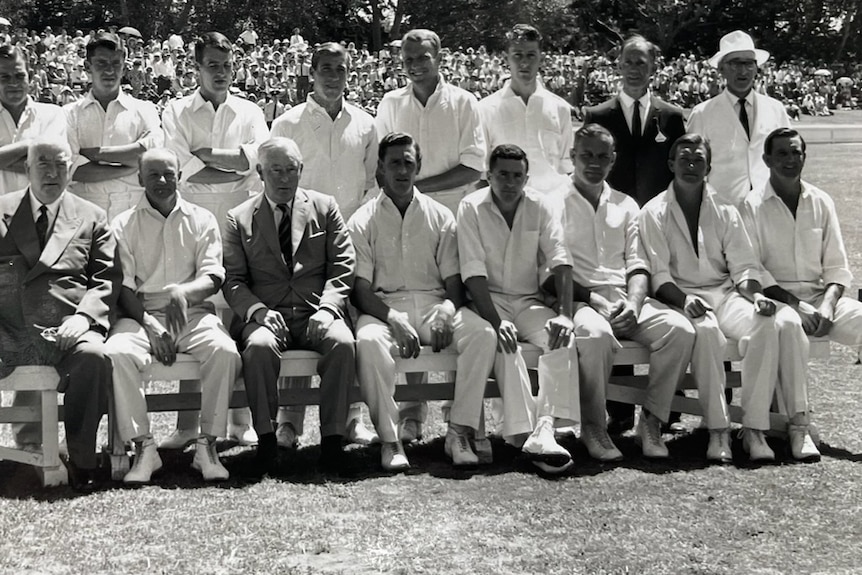 Twenty-five-years later, in 1998, Smith, by now an advertising feature writer with Standard Newspapers in Melbourne, decided to do something extraordinary for the greatest of all time.
Knowing Bradman had such admiration for Tendulkar, he made contact with Sachin's manager Mark Mascarenhas, who was in the United States.
Smith told Mascarenhas he wanted to know if Tendulkar would come to Adelaide for Bradman's 90th birthday. Tendulkar was in Chennai at a training camp.
"The timing was lucky," Smith, 86, said.
"If he was playing at the time it never would've happened."
The answer from India was yes. Back in Adelaide, Bradman was ailing.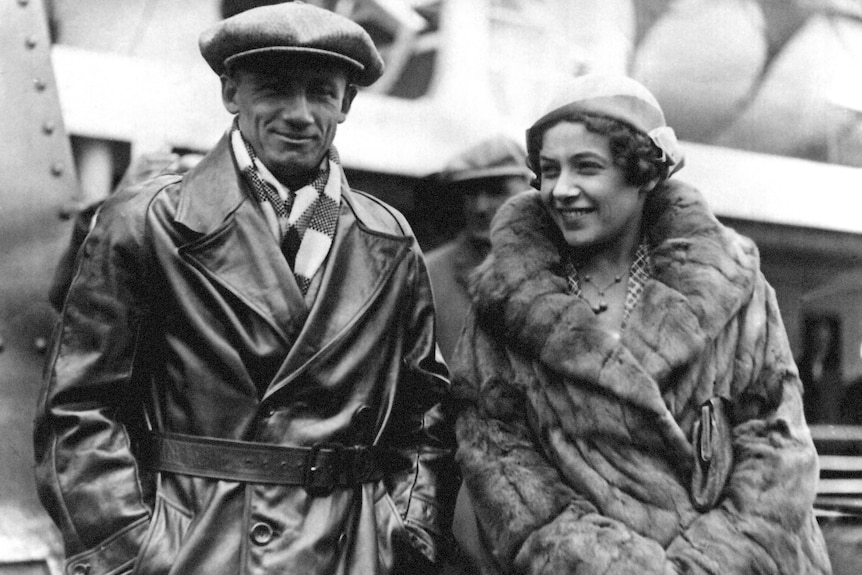 It was going to be his first birthday without his late wife, Lady Jessie, after 65 years of marriage.
"Grandpa was not very well," Greta Bradman said.
"He'd had a number of mini strokes over the past period of time, he was obviously very quiet about that, as with everything in his private life. I hope he doesn't mind me saying that."
Yet, Tendulkar was coming. Smith arranged for Channel Nine to pay for Tendulkar and Mascaenhas's flights.
"I rang up Ray Martin," he said.
In return, Nine secured an interview with Tendulkar.
And Smith had another idea. Through his ongoing cricket involvement in Melbourne — after his Canberra years — he had come to know the Warne family. Another phone call was made, this time to Shane's brother, Jason, to invite the world's best leg spinner to Bradman's house.
The answer from Brighton was yes.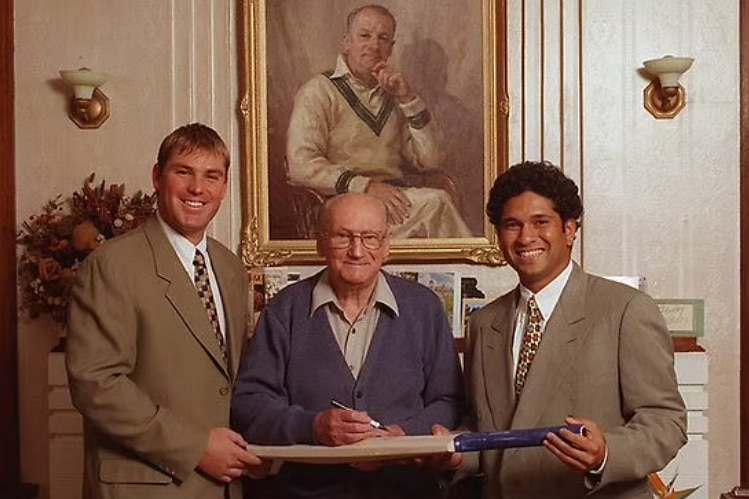 Smith made contact with Bradman and told him what was happening, who in turn called his son, John, and asked him to be there, too.
Tendulkar and Warne soon arrived in Adelaide and got dressed in suits and ties. Warne drove Tendulkar from his hotel to Holden Street for the rarest meeting of humble champions.
The Indian brought with him a silver candlestick holder, inscribed, 'To Sir Donald Bradman, with best wishes on your 90th birthday, from Sachin Tendulkar. 27th of August 1998.'
Warne brought a bat for them all to sign.
John Bradman recently polished the gift and showed it to ABC Sport.
"Sachin bought him this as a present," he said.
"Which we treasure and still thank Sachin for it. It's beautiful."
South Australian Cricket Association hired popular press photographer Bryan Charlton to take a photo of Tendulkar and Bradman, which would be auctioned that same night at a fundraising dinner.
The get-together lifted Bradman's spirits.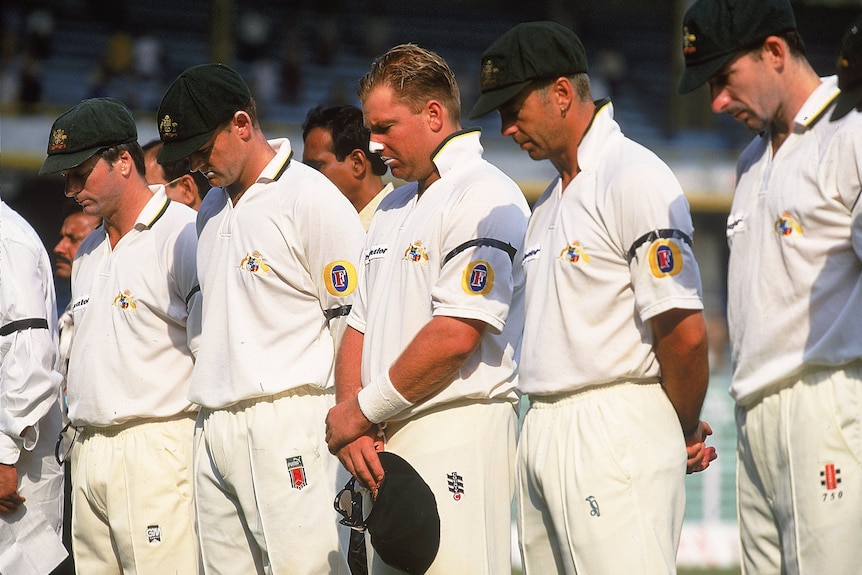 "He was very well, he was very well, he was old and tired," John said.
"But he coped well, and he enjoyed the visitors. That visit was outstanding, the one with Sachin and Shane. That was the most special visit for the day.
"They (Tendulkar and Warne) sat there beside each other, like two young gentlemen and big smiles on their faces. But chatted, and were very outgoing."
It's a moment Tendulkar will never forget.
"That was a memorable meeting," Tendulkar said in an exclusive two-hour interview with ABC Sport.
"The whole experience of travelling from Chennai to Australia, going to Sir Don's house, to Holden Street, was an unbelievable experience and the warmth that he showed, the affection, the kind words that he had to share with us."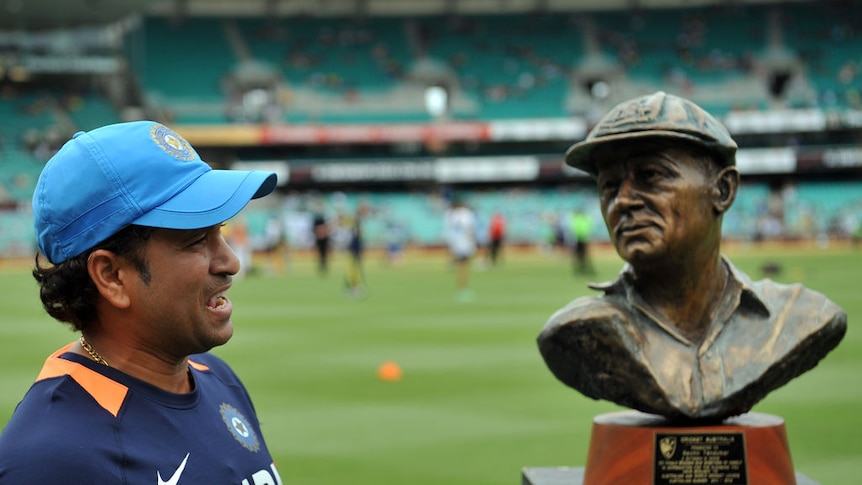 Charlton snapped the photos he was commissioned to take of Tendulkar and Bradman.
Only four copies were made: one of them provides a highlight for daily tour groups at the MCG; another resides in Tendulkar's house alongside other Bradman memorabilia; SACA has the third; and the fourth was given to Mark Mascarenhas, who died in 2002.
Charlton also got the famous picture of the three champions in one frame, as well as a lovely shot of Warne and Bradman.
"When you look back, (it) is Australia's best batsman and best bowler in the same image," he said.
"To me that was a pretty interesting picture and worth recording."
Bradman died three years later, on the eve of the Australian test tour of India, whose first match was in Tendulkar's home city of Mumbai. Australians and Indians both wore black armbands in remembrance.
Warne died last year.
"It's so difficult to use one word, which I hate using for Warnie… 'was'," Tendulkar said.
"For me, he will always be there. And I hate using this word 'was'. I was in England this year, and went to a restaurant, which was right next to Warnie's house. And I actually could feel his presence. It's hard to accept that he's no more with us.
"But the memories that he's left with as well will always stay deep within our hearts. Tough to lose a friend. Tough to lose a friend like that."
Smith, the man who gathered greatness in one room, now lives in an aged care room in his home suburb of Frankston.
He has a lifetime of cricket stories to tell and his walls are covered in cricket pictures.
One of them is a framed and signed photo of Sachin Tendulkar.
He also has a 2001 note from the God of Cricket.
"Attention Graeme Smith from Sachin Tendulkar. Memorabilia of my visit from India to Australia to meet the all-time Master, Sir Donald Bradman on his 90th Birthday on the 27th August 1998."
Smith is proud of his part in cricketing history.
"All they could do — I've learnt this in life — they can say yes or no," he said.
"But you won't find out until you ask."
Bradman and Tendulkar will air tonight on ABC TV and ABC iView at 8.30pm.
This news is republished from another source. You can check the original article here