Eye of the Tiger Management held the official weigh-in earlier today for tomorrow night's card at the Casino de Montréal. This event will be broadcasted live on Punching Grace at 7:30 p.m., on TVA Sports and on 91.9 Sports.
The main attraction of the evening will be Arslanbek Makhmudov (13-0, 13 KOs) against Mariusz Wach (36-7, 29 KOs) from Poland, while the semi-final will feature Simon Kean (20-1, 19 KOs) against Shawndell Terrell Winters (13-6, 12 KOs). 
Makhmudov was the first to step on to the scale to record a weight of 259.2 pounds. Moments later, it was his opponent Wach's turn to stand on the scale where he recorded a weight of 260lb.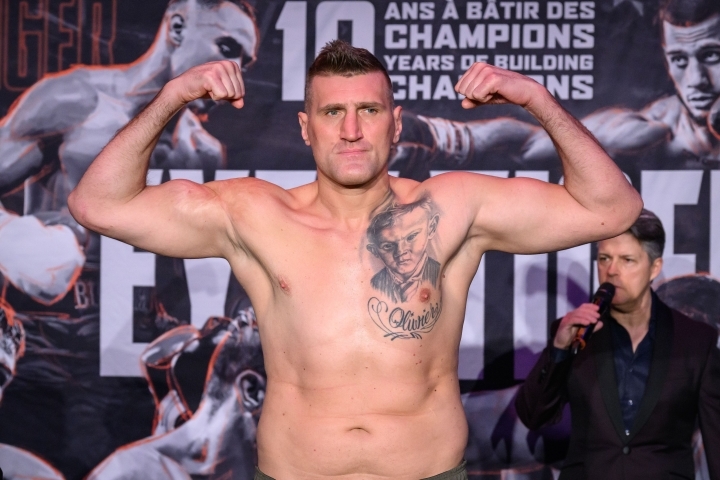 The two boxers will fight for the NABF heavyweight title and getting closer to an eventual fight with the biggest names in boxing's heavyweight division.
In addition, Simon Kean weighed in at 248.4 lbs. while his rival, Shawndell Terrell Winters, weighed in at 211.2 lbs. on the eve of their 10 rounds duel.
At his turn, the pride of Buckingham, Alexandre Gaumont came in at the middleweight limit, 160 lbs, while his opponent, Armando Morales Gutierrez, weighed 157.2 lbs.
Both fighters looked ready to let their fists do the talking in the ring tomorrow night. Thomas Chabot was also within the weight limit at 127.8 lbs in front of Maximino Toala who weighed in at 127.2 lbs.
In addition, Avery Martin-Duval, was in excellent physical condition at 127.4 lbs while his opponent, Juan Esteban Avila Cazares slightly exceeded the weight limit at 129.2 lbs.
The Montreal's prospect, Luis Santana, weighed in at 137.6 lbs followed by his opponent, Brandon Garcia Orozco who came in at 136.4 lbs. To close the weigh-in, which took place without too much animosity, Leila Beaudoin tipped the scales at 130 lbs. while her opponent Monica Selene Alcala came in at 128.8 lbs. for their 6 round duel.
This news is republished from another source. You can check the original article here