NEWYou can now listen to Fox News articles!
Major League Baseball will postpone the start of spring training to no earlier than March 5 as owners and the players union try to come to a collective bargaining agreement to end the lockout.
MLB expressed "regret" at having to push back the games in a statement released Friday.
CLICK HERE FOR MORE SPORTS COVERAGE ON FOXNEWS.COM
"We regret that, without a collective bargaining agreement in place, we must postpone the start of spring training games until no earlier than Saturday, March 5th," the MLB statement said. "All 30 clubs are unified in their strong desire to bring players back to the field and fans back to the stands. The clubs have adopted a uniform policy that provides an option for full refunds for fans who have purchased tickets from the clubs to any spring training games that are not taking place. We are committed to reaching an agreement that is fair to each side."
MLB said another meeting between the owners and players union will take place at the start of next week.
"On Monday, members of the owners' bargaining committee will join an in-person meeting with the Players Association and remain every day next week to negotiate and work hard towards starting the season on time," the statement added.
The MLBPA took issue with MLB saying it "must" postpone the spring training games.
"Two months after implementing their lockout, and just two days after committing to Players that a counterproposal would be made, the owners refused to make a counter, and instead requested mediation," the union said.
"After consultation with our Executive Board, and taking into account a variety of factors, we have declined this request.
"The clearest path to a fair and timely agreement is to get back to the table. Players stand ready to negotiate."
AARON JUDGE UNCERTAIN OF FUTURE WITH YANKEES, TALKS POSSIBLE EXIT FROM NEW YORK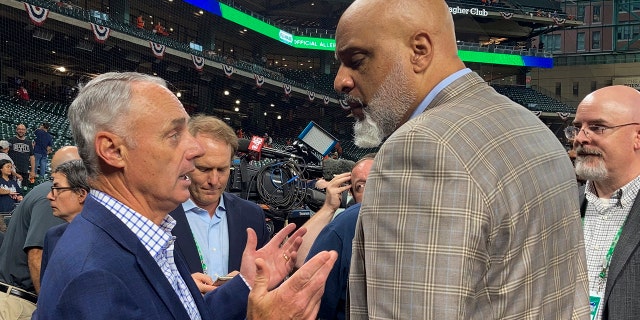 The decision to postpone the games comes after the two sides met for 15 minutes Thursday following a four-day break. Thursday was supposed to mark the second official day of spring training.
"I'm pretty sure I've had at-bats longer than this meeting," New York Mets infielder Luis Guillorme tweeted.
New York Yankees star D.J. LeMahieu added, "I just hope something gets resolved quickly. Baseball becomes a business — it's not as fun — but it's something that definitely needs to happen."
According to The Associated Press, the union didn't read much into the brief meeting, and management attributed the quick ending to having little to talk about.
Key issues still remain unresolved. Luxury tax thresholds and rates, a minimum player salary, the union's proposal to decrease revenue sharing and the players' allegation of service time manipulation are among the hotly contested issues. Owners also seek to expand the playoffs from 10 to 14 teams. Players would settle for 12.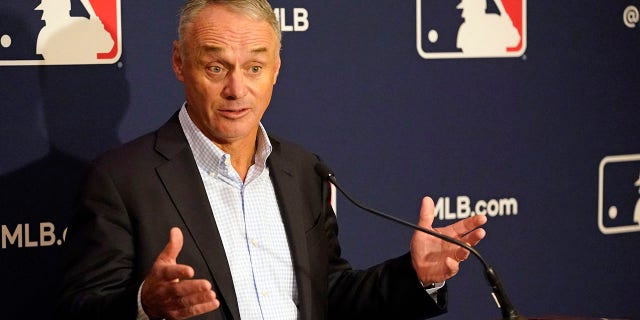 Spring training games were set to begin Saturday, Feb. 26. 
CLICK HERE TO GET THE FOX NEWS APP
Opening Day is scheduled for March 31.
The Associated Press contributed to this report.
This news is republished from another source. You can check the original article here